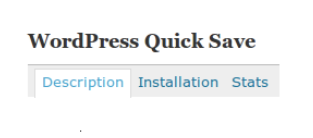 WordPress Quick Save adds a CTRL+S keyboard shortcut to trigger the Auto-save functionality in WordPress. If you find that you habitually hit CTRL+S while writing posts, this will stop those annoying popup save site windows from appearing.
No more having to stop and click save to ensure you don't lose your recent edits. Keep in mind, this saves ONLY as an autosave.
Use:
While editing a post press CTRL+S on your keyboard just like saving in Microsoft Word or GMail.
Download:
Download Latest WordPress Quick Save
Installation:
Download the zip file, unzip it and upload to your wp-content/plugins folder
Upload to your plugin directory.
Activate.
The plugin is hosted in the WordPress Extend database so you can also manually install from your wordpress admin panel
Go to "Add New" under Plugins
Search for "WordPress Quick Save"
Click install now, confirm and follow any other instructions you are given.
comments powered by

Disqus